Large Fender Sock Kits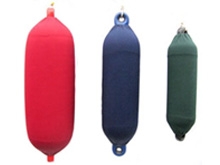 A large Fender Sock Kit is a 5 metre roll of hard wearing polyester fabric. In the majority of cases one roll is sufficient to cover 5 or 6 fenders. All Fender Sock Kits are easy to fit and come with ties and full fitting instructions. Protect your vessel & fenders from fender scuff, UV light and fender squeak!
A large Fender Sock Kit will cover fenders 7 to 14 inches or 18 to 36 cm in diameter.
Protect boat from fender scuff
Eliminates fender squeak
Protect fenders from UV rays
Improve appearance of old fenders
Stain resistant and washable
Choose a colour below...